Hi Friends!
Today I wanted to share a post from my old blog 'Literally Inspired'. I made the decision to shut it down because my passion and direction changed. Although the website/blog no longer exists, I did keep all the content (yay). This means I am able to share them with you. Over time I will be re-posting my favorite posts from Literally Inspired.
First up is my most popular post ever! My canvas photo project. I still have them hanging up in my house after all these years. I love them! I hope you will too!
----------------------------------------------------------------------------------------------------------
Last year I innocently wrote a post about a project I had finally gotten around to finishing. Little did I know, a year later it would have gone viral thanks to a little website we all know and love - PINTEREST.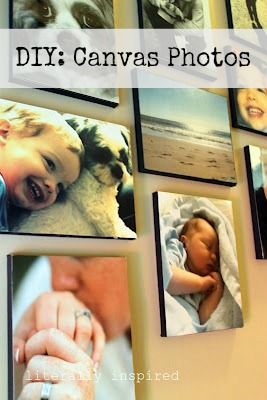 To this day, I get several e-mails a week asking questions about my
c
anvas photos. I thought I would revisit the post and show you a step by step tutorial this time. When I first posted, I was inspired by another bloggers project so I simply directed you back to their site. Unfortunately, they removed the post and therefore left all of you without any step by step guidance.
I hope this post will clear up any and all questions that you may have about the project. It really is very simple and you are left with fabulous results.
| S U P P L I E S |
Canvas (8x10)
Photos (8x10)
Black Acrylic Paint
Mod Podge
Application Brushes
1. Paint the edges of your canvas.
2. Apply an even layer of mod podge
3. Lay photo face up on canvas. Smooth and press firmly removing any bubbles.
4. Once dry, trim edges so that the photo does not hang over the edge of the canvas. I don't know why this happened since I have the same size canvas and photo, but it does.
5. Add a layer of Mod podge to the top of the photo to seal
.
So. Easy.
Above is the original display.
1. Do you lay the photo face up or down?
Up
2. Where did you get your pictures printed? Can I print them at home? What type of paper?
I got my pictures printed at Walgreens on photo paper. You can print at home but I suggest only doing this if you have a laser printer. I think the ink jet will be a mess once you use the mod podge.
3. Where did you get your canvas?
I purchased my canvas at Michaels. If you need an online solution check out these
blank art canvases
on Amazon.
4. What size were your photos?
8x10. You can do any size you want.
5. Why did you trim the edges? Couldn't you do this prior to gluing the photo down?
For some reason my photos were slightly larger than my canvas. Yes, you can size your photos prior to mod podging them onto the canvas.
6. What type of mod podge did you use?
I used the glossy format. You can use the gloss or matte. Either one would work.
I hope this answers a lot of your questions. I never expected to receive so many inquiries about this post. It is truly amazing.