We are reading
Say Goodbye to Survival Mode
by Crystal Paine. You can catch up to all of the posts in our archives or join the discussion in the
book club
.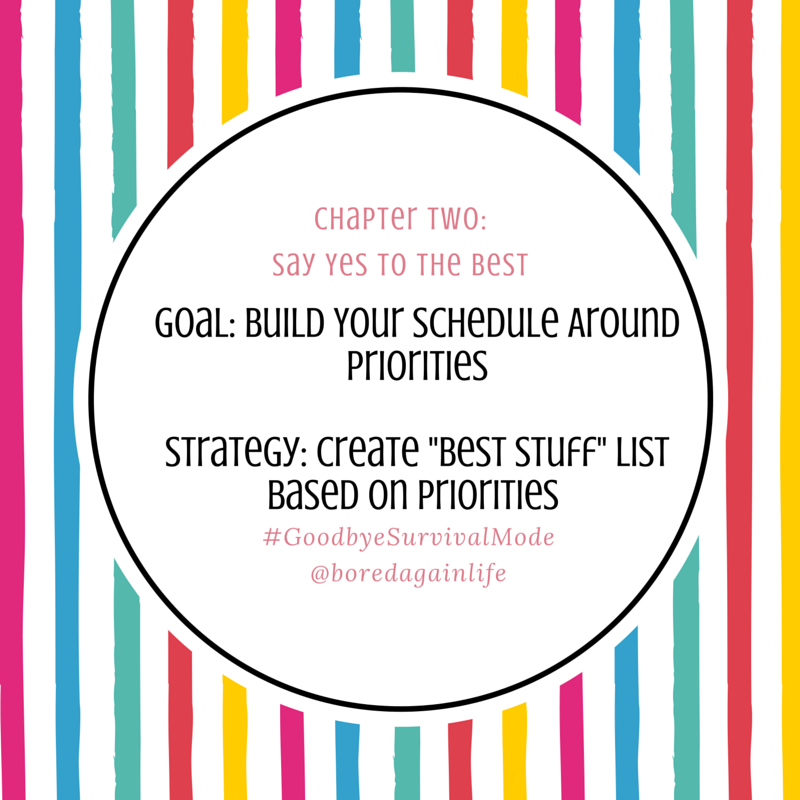 Yesterday we made a list of our priorities. Today we are going to read and discuss only saying yes to things that align with those priorities.
This will not be an easy challenge. You may think it will, but it won't. It will take effort and will be achieved over time.
Let's start by hashing out a schedule and routine. I have set a
schedule before
. It has since changed of course. I don't know if anything ever stays the same for too long when you have kids.
This is what a typical day looks like for me. If you think I have mastered getting up at 5:00am yet, you are wrong. I'm still working on that one. Right now I am getting up at 6:00am. I'm trying y'all!
This schedule covers all of my priorities. I do a little bit of each priority creating some balance. Now to master the 5am wake-up call. It will be worth it once I do. That is almost 3 hours of alone time before the rest of the house starts to rise. If you are a night person, your schedule may be the opposite.
Don't forget to give yourself margin too. I have left a few 30 minute blocks for running late or last minute errands. It happens. I also left my morning as "project of the day" instead of something specific. This way I can work on blog/home projects, run errands, or do my usual cleaning routine. I can go with the flow. You can view my
cleaning routine here
.
When you create your schedule be realistic and start by adding your non-negotiable - your priority list. Put the items that will require the most effort earlier in your day. I love working out in the morning and getting my shower in before anyone else is awake. Then I am ready for wherever the day takes me.

1. Schedule the "Best Stuff" first - Use Your Priority List
2. Create schedule using 30 minutes time blocks
3. Add in buffer (margin) time and plan for the unexpected.
Once you have your day mapped out you can start focusing on specific routines. I am still in the process of mapping out my daily work routine. It seems to be the most complicated. When I finally made a cleaning routine/schedule my life got so much easier. You must create one! We can dig deeper into routines in the
Facebook Group
.
JOIN US IN THE BOOK CLUB TO SHARE YOUR DAILY SCHEDULE!