Two kids and one on the way this summer. I'm scared. I'm not afraid to admit that. I have two plans I'm working on.
Plan 1. Don't plan anything. Have absolutely zero expectations. Go with the flow and do what fits our fancy each day. The problem with this plan - fail to plan, plan to fail. I'm afraid by not planning anything I will be completely stressed out with two bored children while I'm nursing another.
No thanks.
Plan 2. Over plan. Have something planned for every day and keep everyone busy. The problem I see with this plan is over promising and under delivering.
I need to create some kind of hybrid solution. A loose list of summer ideas with no particular completion date. I've asked Landon to help me put together a summer bucket list of places to go and things to do. It is very interesting to see what he thinks will be a good time. Ha!
How much can we get done in 10 weeks?
What can we learn?
Where can we go?
Summer is for fun, adventures, family, sunshine, and relaxation.
I am going to have each one of us create our ultimate summer bucket list. I am personally going to make two different lists. One for what I want to learn and another list of where I want to take the kids and all I want to do. I will probably ask Landon to make two lists as well.
The learning list doesn't have to be boring or scholarly. I'm talking about learning how to swim the length of the pool, learning to dive, learn how to do origami, learn how to make slime, etc... Whatever you want to learn how to do big or small. The "learning" part will come in the research in finding out how to do it and creating the discipline to stick with it.
I created a quick summer bucket list sheet to keep track of our ideas. You can download your own copy below or make your own.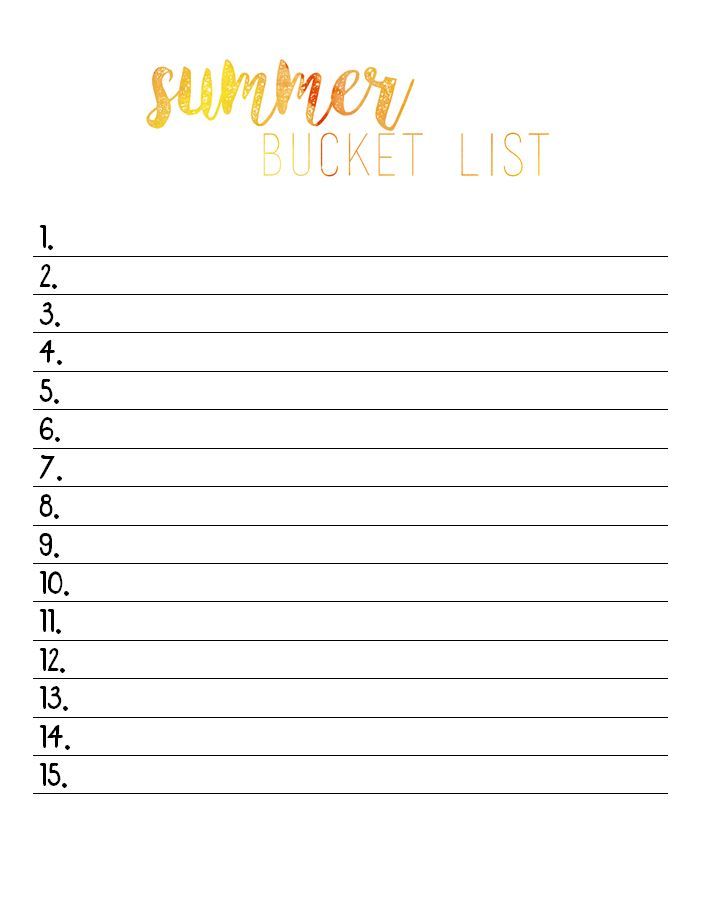 Here are a few things we came up with. Will we get to them all? Probably not. Remember, just a loose plan to keep summer entertaining. I just want to have ideas on those bored days when we are ready to lose our minds.
+ Strawberry picking
+ Try new foods
+ Make our own ice cream
+ Read 15 books (mine obviously)
+ Swim Swim Swim
+ Go to the beach
+ Learn Yoga
+ Learn Parkour (Landon of course)
+ Go fishing
+ Go campling
What are your summer plans? Any big adventures or small getaways? What do you want to learn this summer? I will be posting our lists in the
Facebook Group
for inspiration. Make sure you are there!