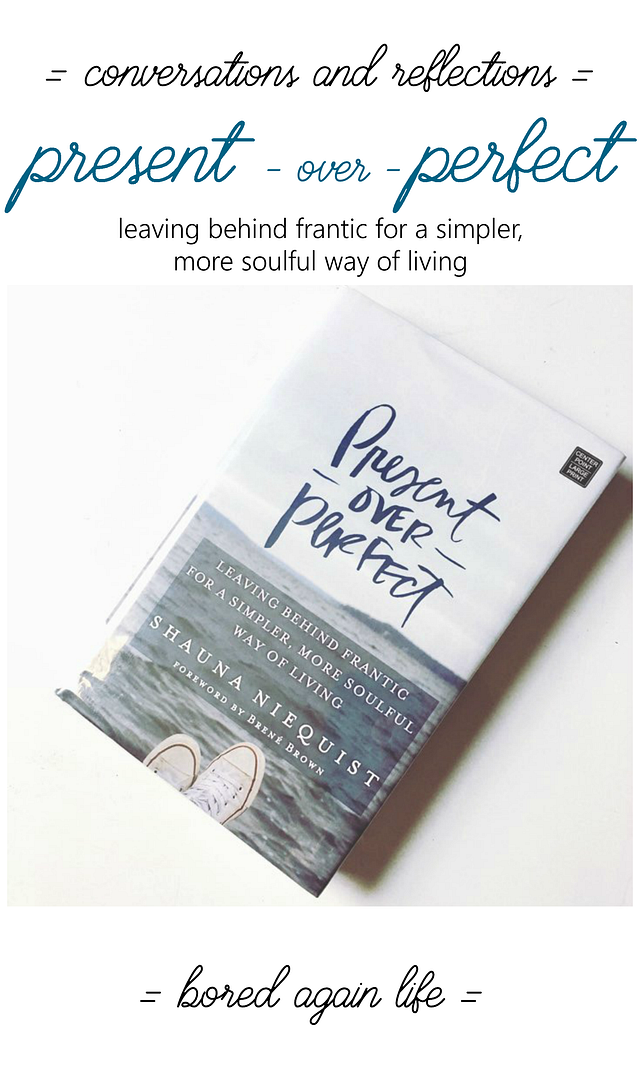 This
book
.
This book was not what I expected.
I've never read a book by Shauna Niequest before. I didn't know what to expect.
I assumed I would receive a to do list and steps on how to fix my chaotic life. I thought she would give me details on how to be present and easy steps to giving up the idea of perfection.
What I got were mini heartfelt stories. I related to so many of them. I laughed and cried reading them. There were a few that punched me in the gut it hit so close to home.
We recently brought home baby number three. I'm realizing the importance of my role in their lives. Motherhood is the toughest hood you will ever walk through. I am responsible for so much. I'm not talking about cooking and cleaning. I'm talking about helping shape and define the character of these little people.
I want you to read
Present over Perfect
. You need to experience her words first hand. They will change you. I made a few notes as I worked my way through the book and I'm going to share a few of them with you.
YOU PUT UP THE CHAIRS:
What are YOU going to do?
Putting an emphasis on YOU completely changes the dynamic of the question. When your calendar is stacked and all you want is a moment to chat with a friend, what are YOU going to do? Usually the answer is TRY to meet up another time. TRYING is getting me nowhere. If I "try", I will never see my friends. I must DO.
Put up some chairs. Take things off of your plate. The concept is simple. In order to do more of what we want to do, we have to do less of the things we don't. We must simplify.
To add we must subtract.
MUST BE NICE:
How many times do I say this out loud or in my head? Or discuss said friend with my husband.
"She has it so easy. Must be nice."
Poor, Poor Me.
I read this chapter and thought "Oh crap, she nailed me." She has my number. I do this more than I care to admit. A friend tells me they are doing this or that and I immediately wonder "why not me?"
The truth is we don't know what anyone is really dealing with. We can't assume or make judgments on the short stories they choose to share or snipits we read on Facebook.
We also have the power to make changes in our lives if we want to live life a certain way.
If you aren't living how you want to live, STOP. MAKE A CHANGE.
I am making mental notes every time I think "must be nice" about someone else. It is likely I want this for myself. I need to figure out how to get it.
WHEN BRAVE LOOKS BORING:
Not giving up.
Not running away.
Staying put.
Sticking it out.
THAT IS BRAVE. THAT IS HARD.
I want to teach my kids this. Brave isn't always a BIG thing. Sometimes being brave is simply doing the RIGHT thing.
ESSENTIAL SELF:
I struggle with my identity.
At 35 I don't have confidence in who I truly am.
I think I've spent so many years trying to be someone that everyone likes I lost myself along the way.
I'm giving myself permission to be who I am. To say what I want to say. Act how I want to act.
Have an opinion about me? Keep it to yourself.
This is freeing.
When we stop worrying so much about other people's opinions WE BECOME FREE.
Find yourself. Figure out who you are.
Then be that.
LEGACY:
This was my favorite "chapter".
Legacy.
That is a major word.
I really thought about what I want to leave for my children.
How do I want them to remember me?
What will they say about me when I leave this earth?
What stories will they share with their children and grandchildren?
Right now, today, this scares me.
It makes me sad.
I don't think I would like the stories they have right now.
I'm not a bad mom, but I can do better.
I will do better.
IT'S ALL RIGHT HERE:
"It's all right here" ties in to the LEGACY chapter.
Giving your best self to everyone else and letting your family have the leftovers.
Leftovers aren't good.
They are dried up and over cooked.
Feed your family first. Give them your best.
This is hard to do. I struggle with this the most. Especially in this season of life with little ones.
I know I want to be everything for everyone. I want to help all the people.
I can't do that. My family needs the best that I have. It isn't fair they get me when I'm tired, worn out, and completely cooked.
THROWING CANDY:
LIVE LIFE.
LIVE IT OUT LOUD.
THROW THE FREAKING CANDY!!
This book has me thinking about my greater purpose. It has made me realize the important task I have been given to raise my children. I am the only one who can do this. They have been given to me.
No pressure!
These kids deserve a mom who is present. They deserve my best.
What were your favorite takeaways?
I would love to hear from you!